"Box des Fleurs" a story
Once upon a dream... Long long ago... A lover gifted his love a perfect rose full of life's smells that he had freshly cut himself. The rose was as red as their love and passion for each other. The feelings were magical. She wanted to relive the memory of that day always and forever. So she preserved the flower in a book that she kept close to her heart.
Box des Fleurs is our modern way of enabling you to transition into dreamy moments you want to cherish forever by preserving your memories in our boxes.
Box des Fleurs - Unbox Dreams into Reality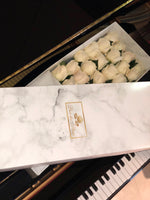 Packaging
Our luxurious marble printed boxes are any blogger's dream. Our design allows our customers to keep up with the fashion world and the 'unboxing' trend.
Our packaging has the ability to house and preserve our real, delicately cultivated roses and their ethereal beauty for those who take pleasure in drying their roses to uphold their everlasting memories.
Our boxes come in two sizes. The smaller box's dimensions are: 60cm x 10cm x 9cm and the larger box's dimensions are: 60cm x 22cm x 9cm.
Roses
At Box des Fleurs we are all about the art of fresher roses. Our sophisticated roses from around the world are obtained daily to ensure providing the best freshest roses for your order.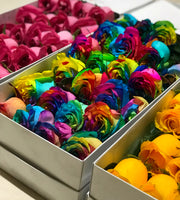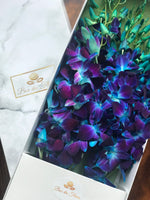 Orchids
Our orchids' collection consists of the most unique variety of colours. With our rare collection, freshly cut daily, we are sure our orchid boxes will be the perfect fit for any and all personalities.